About LMF Manufacturing
In 2001, LMF Manufacturing, located in Central Pennsylvania, responded to the growing need for alternative heating sources and started to build the AmericasHeat Biomass Forced Hot air furnace. The response to our furnace was overwhelming and we out grew our first location within one year. In 2002 we relocated our office and manufacturing plant to a facility in Lock Haven, PA. In 2006, because of continued demand, we were again forced to move our production/manufacturing center, with the financial assistance of the West Penn Power Sustainable Energy Group, into a larger facility located in Woolrich, PA.
Today, we operate two facilities, and manufacture 4 models of Corn Burning furnaces. 2 Forced Hot air units (100,000 & 170,000 Btu models) and 2 Hot water boiler units (100,000 and 170,000 Btu).
Burn Wood Pellets or Corn Safely & Efficiently...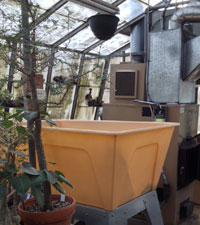 With an America's Heat furnace there are: No changing burn pots, No adjusting timer settings, No adjusting the draft, No making never ending and time consuming adjustments to the combustion blower and No worries of Smoke Back.
With an America's Heat furnace equipped with a Corn-trol Digital system and an air handling kit you can burn pellets safely and efficiently without having to make a lot of adjustments to your furnace and you can switch between corn and pellets by simply selecting the fuel on the thermostat and opening or closing the airflow door on the combustion blower.
The America's Heat Hot Air furnace is the first shelled corn/wood pellet fired furnace to be listed by Underwriters Laboratories assuring you of a safe and quality product.
• Tired of the high cost of oil and gas? Try our pellet furnace, pellet boiler or pellet stove
• Two Forced Hot Air Models and two Hot Water Boiler Models - 100,000 btu and 170,000 btu
• Burns clean - no more creosote
• Cleaner; Safer; with an 85% efficiency rating.
• Safe, comfortable heat
• A better alternative
• Automatic Variable Speed Controls now available on LMF Furnace
• Automatic Variable Speed Controls now available on LMF Boiler
• Automatic Variable Speed Controls Available on Hot Air Units!