About LMF Manufacturing
We are a small family owned and family operated business capable of doing big things, located in Montoursville Pennsylvania. In 2000 we started a welding and fabrication business to do custom metal working. We also added retail sales for wood burning stoves, furnaces, and boilers to the business to help pay the bills. We quickly realized the high demand for renewable alternative heating solutions and started building our own line of Bio-Mass burning furnaces in late 2001, then left the retail industry and developed a catalog of dealerships across the USA and Canada. We take pride in the fact that everything we build is American Made with American steel and everything they burn can be grown in the USA. And if we don't make it at our facility, we do our best to source the best American products on the market, even our computers are built in Syracuse New York. Seeing the fact that everything in our furnaces is American Made, we felt it was only proper to name our heating products America's Heat. Our furnaces are capable of burning a variety of fuels such as Pellets, Corn, Wheat, Oats, Barley, Rye, and Cherry pits. Since 2001 we have grown our product line to include two sizes of Bio-Mass burning hot air furnaces, two models of Bio-Mass burning boilers, pellet stoves, electric and gas powered powder coating ovens, and extensive variety of fire pits, custom metal signs, interior and exterior metal art, outdoor grills, smokers, and sand box toys. We still operate as a full fabrication shop while maintaining our commitment to the heating industry. We are masters at custom CNC plasma cutting, we excel at large piece and high volume orders but love to show special focus on one of a kind and custom pieces. Our welders are capable of Mig, Tig, and Stick welding. We also specialize in powder coating, and love to do any size job from 1 single piece up to thousands of pieces. It's one more thing to make us a one stop shop for our customers convenience.
Burn Biomass Pellets or Corn Safely & Efficiently...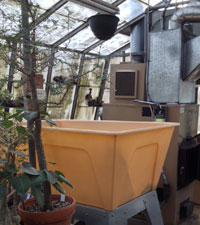 With an America's Heat furnace there are: No changing burn pots, No adjusting timer settings, No adjusting the draft, No making never ending and time consuming adjustments to the combustion blower and No worries of Smoke Back.
With an America's Heat furnace equipped with a Corn-trol Digital system and an air handling kit you can burn pellets safely and efficiently without having to make a lot of adjustments to your furnace and you can switch between corn and pellets by simply selecting the fuel on the thermostat and opening or closing the airflow door on the combustion blower.
The America's Heat Hot Air furnace is the first shelled corn/Biomass pellet fired furnace to be listed by Underwriters Laboratories assuring you of a safe and quality product.
• Tired of the high cost of oil and gas? Try our pellet furnace, pellet boiler or pellet stove
• Two Forced Hot Air Models and two Hot Water Boiler Models - 100,000 btu and 170,000 btu
• Grains burn clean - no more creosote
• Cleaner; Safer; with an 85% efficiency rating.
• Safe, comfortable heat
• A better alternative
• Automatic Variable Speed Controls now available on LMF Furnace
• Automatic Variable Speed Controls now available on LMF Boiler
• Automatic Variable Speed Controls Available on Hot Air Units!